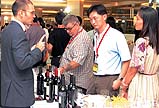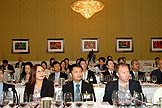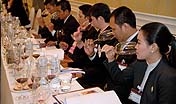 Chateau Angelus Vertical Tasting
---
Mr Hubert de Bouard, owner of Chateau Angelus, the famous St Emilion Grand Cru Classe B, Chateau Bellevue and La Fleur de Bouard from Lalande de Pomerol, has confirmed participation in the first Bangkok International Wine Fair (BIWF) in November.
On a recent visit to the kingdom, he confirmed at a meeting with Mr Joe Sriwarin, Managing Director of BIWF, that Chateau Angelus will be hosting a vertical tasting of several vintages at the show. These will include the 2009 Chateau Angelus (Mr de Bouard's 25th vintage), wines from Chateau Bellevue and La Fleur de Bouard as well as several other wines where Mr de Bouard acts as consultant.
Mr Hubert and Madame Corrine de Bouard are both known as long-time friends of Thailand. Both believe that Thailand is an important market for French fine wine, and with the inaugural Bangkok International Wine Fair, Hubert is looking forward to promoting his wines to a wider range of high-end Thai consumers and professionals from the wider region. Already Chateau Angelus ranks among the finest wines from France available in mainland Southeast Asia.
Mr Joe Sriwarin said today: "It is great news for Bangkok that Mr de Bouard will be presenting his wines at the show. This is proof that Thailand is already a valued market for fine wine.
"We are no match for Hong Kong, but within Southeast Asia we believe that Thailand is potentially a huge market for fine wine and that Bangkok is the region's natural wine hub. Many fine wine producers still believe our ageing wine tax is a major problem, but I personally believe this is exaggerated - if people like particular wines, they will certainly obtain them. This is mainly a problem for the Thai government, not Thai consumers, as very high wine excise taxes prove difficult to collect. Thailand is much like other wine-loving countries – in the off-trade, at least, we have fine wines available in Bangkok at prices just a little more expensive than our neighbours."
---
Date of announcement: 29 March 2010
Programmes and Seminars

Show News

BIWF Wine Challenge