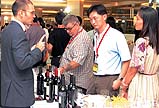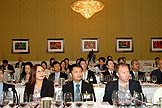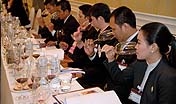 ASEAN Best Sommelier Competition
---
The first ASEAN Best Sommelier Competition will be staged at the Bangkok International Wine Fair in November 2010.
The ASEAN Best Sommelier Competition is not an official ASI-organised sommelier competition, but a self-initiated regional sommelier contest. Nevertheless, BIWF plans to invite one of the previous 'World's Best Sommeliers' to attend the competition as a technical adviser, and the 'ASEAN Best Sommelier' competition will be judged by a panel of international judges. None will be from Thailand or any other ASEAN country.
The aims of the 'ASEAN Best Sommelier' competition are:
1. To promote the sommelier profession throughout the ASEAN region.
2. To share knowledge of wine and other beverages among sommeliers in ASEAN countries.
3. To prepare all 'ASEAN Best Sommelier' candidates to compete at the next ASI-organised 'Asia-Oceania Best Sommelier' competition. 
4. To raise the standard of wine and beverage service throughout the ASEAN region, and to harmonise regional rules and regulations in accordance with world-class standards.
5. To promote wines and beverages from around the world in ASEAN markets.
BIWF is currently inviting sommeliers from six ASEAN countries (Thailand, Singapore, Malaysia, Indonesia, The Philippines and Vietnam), together with the presidents of their sommelier associations, to attend the first Bangkok International Wine Fair 2010.

The winning prize for 'ASEAN Best Sommelier 2010' will be a 10-day overseas wine education trip.
---
Wine-producing countries, regional bodies or wine brands interested in hosting conferences, seminars or presentations in conjunction with the 'Bangkok International Wine Fair' should contact BIWF.
Email communications@bangkokwinefair.com
↑ (top)
Programmes and Seminars

Show News

BIWF Wine Challenge