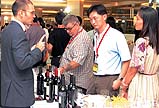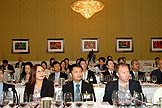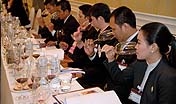 Do Thais speak English?
---
Some intending exhibitors have enquired about language difficulties in Bangkok – in particular, whether buyers likely to attend the Bangkok International Wine Fair will speak adequate English.
Unlike some regional wine fairs that require interpreters, all Thai importers and wine professionals attending the BIWF can be expected to speak English of a sufficiently high standard to conduct business directly. Hiring an interpreter will not be necessary.
Moreover, foreigners new to Bangkok will find that they can function in the city very easily provided that they themselves speak English. Nearly all Thais liable to come into contact with foreigners can speak and understand English adequately for their purposes; however it should be noted that knowledge of other European languages is limited.
Programmes and Seminars

Show News

BIWF Wine Challenge