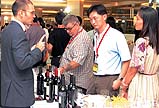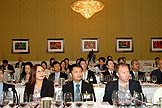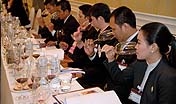 10 things to do and see in Bangkok
---
For those who have never visited Bangkok before, and may wish to extend their stay for a couple of days, we give here a brief overview of the city's main sights and attractions. This is merely an introductory summary of what Bangkok has to offer - for more details, visiting hours, etc, intending visitors are referred to the many guidebooks and websites about the city.
1. The Grand Palace and Wat Phra Kaew
Still in official use on ceremonial occasions, the Grand Palace is Bangkok's architectural showcase and replicates many of the older royal buildings destroyed at Ayuthaya. The apartments available for viewing, the temples and museums here are a must-see for anyone with the smallest interest in Thai art and culture. Within the palace compound, the astonishingly ornate Wat Phra Kaew (Temple of the Emerald Buddha) is effectively the Royal Chapel and the spiritual epicentre of the city. The Emerald (actually jadeite) Buddha housed here is the most revered religious icon and national symbol in Thailand.
2. The National Museum
About 500 metres north of the Grand Palace, on the west side of Sanam Luang, the National Museum is the biggest and most impressive of its kind in Southeast Asia. Not only are the display of historic Thai art and sculpture unmatched anywhere, but the collections go right back to Neolithic times and cover the entire region. Unusual displays include those devoted to classical musical instruments and Royal Funeral Chariots. The museum should not be missed by anyone with a serious interest in Southeast Asian art, history or culture.
3. Chaophraya River
Bustling with life, and offering uncluttered views of Bangkok's main monuments, the river demands at least one trip on a first visit to the city. The Chaophraya is real working waterway, as the huge rice barges making their way downstream to the port testify, and it is also a major transport artery for the locals. A convenient way to experience it is to take the BTS to Saphan Taksin, and board a river bus to travel to Khao San Road or the Grand Palace. Night dinner cruises are more touristy, but the spotlit palace and temples along the riverside will supply unforgettable memories of Bangkok.
4. Khao San Road
As featured in Alex Garland's 'The Beach', Khao San remains the hub of young backpacker activity in Bangkok, and is still referred to as 'Southeast Asia Central'. Outlying areas have been colonised by trendy art cafes and similar establishments catering to students from nearby Silpakorn University, and at night the Khao San area's many clubs are popular with young Westerners and Thais alike.
5. Chatuchak Market 
Open only at weekends, but easily accessible by both BTS and MRT, Chatuchak is by far the largest market in Bangkok – selling everything you can possibly imagine, and a great deal more besides. Although Chatuchak is unrivalled as a local shopping experience, jostling with half Thailand in the heat and humidity can easily daunt unacclimatised Westerners - which makes late November one of the best times of year to visit.
6. Patpong Night Market
A little soi (actually 4 sois) linking Silom and Surawong Roads in the heart of Bangkok's commercial district, and just a short walk from the Dusit Thani, Patpong clings to its now outmoded reputation as the centre of Bangkok's famous sex scene. Actually more important these days is the night market which clogs Patpong 1 and spills over onto Silom, and is a good place to buy high-quality craft items and copies of designer brands. Bargain hard.
If you want to see a real live go-go bar, ignore the touts and just stroll into one of the many still operating on Patpong 1 and 2 – the demimondaines within are well used to being gawked at by inquisitive tourists, and Western women will not be made to feel at all uncomfortable. Between stints on the runway, most of the girls (or apparent girls) will be happy to just sit and chat for the price of a 'lady drink'. Upstairs bars in the small lanes linking Patpong 1 and 2 are clip joints and should be avoided.
7. Other Shopping
The most important upmarket shopping centres in Bangkok are Siam Paragon (in the same vast building as BIWF) and The Emporium, by Sukhumvit Soi 24. Both have plenty of pleasant watering holes, and can be recommended if you want to view Bangkok high-society in its natural habitat. A less international, far more Thai, shopping experience is provided by the somewhat chaotic but far cheaper Maboonkrong (MBK) shopping centre near National Stadium.
Shoppers for antiques, silverware and the like should visit River City (adjacent to the Sheraton Riverside) and Charoen Krung (aka New Road) at the bottom of Silom. For computer geeks, Panthip Plaza on Petchaburi Road is valhalla.
8. Spas
Thailand has raised the spa experience to a near-spiritual dimensions, and some of the most beautiful and best serviced spas in the country are housed in the capital's 5-star hotels. Most will accept bookings from non-residents, and guidebooks are available to help visitors choose the ambience they think will be most rewarding. A top-class Thai spa treatment is a quite unforgettable experience, and will demonstrate Thai aesthetics and dedication to personal service at their absolute best.
9. Eating Out
Food in Thailand is ridiculously cheap at all levels of the market, and Bangkok can offer a wide variety of 5-star restaurants in all major international cusines at much lower prices than other cities. French nouvelle cuisine, New York Steakhouses, British pub fare, Italian, Tex-Mex, Indian, Chinese, Japanese, Vietnamese – you name it, Bangkok has got it.
Most short-time visitors, of course, will be interested primarily in Thai food. All hotels have (usually excellent) Thai restuarants, and of course Thai food costing a song is ubiquitous on the streets – just choose vendors well-patronised by locals and point to what you want. If you want to get away from hotel dining rooms, Thai restaurants which can be recommended include the deluxe Blue Elephant, housed in a beautiful colonial building on Sathorn Road that served as the Japanese HQ during World War II. The Blue Elephant is expensive but provides what is probably the most gorgeous Thai fine-dining experience in the city. Much cheaper, and greatly favoured by expats entertaining friends from home, is the Lemongrass on Sukhumvit Soi 24. The food is excellent, with many unusual dishes on offer, and the ambience conforms to Western ideas of what an authentic Thai restaurant ought to (but doesn't) look and feel like.
10. Day / Weekend Trips from Bangkok
Just 76 km north of Bangkok, the former Siamese capital of Ayuthaya was systematically destroyed by the Burmese invaders in 1767. In its 16th-18th century heyday, however, Ayuthaya was a larger city than London, and its ruins are still mighty impressive. The small modern town nestling amid the wreckage of past grandeur gives an eerie impression of what Rome must have been like during the Middle Ages. There are many organised trips to Ayuthaya from Bangkok, most of which involve a river cruise.
Anyone willing to hire a car might try Khao Yai, a cooler and very pleasant hilly area on the edge of the Isaan plateau about 2 hours from Bangkok. This is a favourite weekending area for middle and upper-class Thais - good accommodation and restaurants abound, there is a National Park and several wineries here encourage visitors.
Those who fancy the beach can travel either east to Pattaya (where the mind-boggling sex scene can be largely avoided by going past the headland to quieter Jomtien), or west to Hua Hin. The latter has an entirely different atmosphere - an area much favoured by the Thai Royal family and high society, Hua Hin boasts beautiful beaches, many golf courses and many fine eateries. This is a particularly good place to try Thai seafood.
Programmes and Seminars

Show News

BIWF Wine Challenge