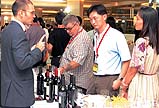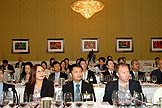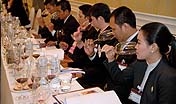 Sommelier 2010
---
The 'Thailand's Best Sommelier' competition is the national sommelier competition organised annually by Wine Today magazine since 2008. From 2010, the mid-year Sommelier event will be associated with the Bangkok International Wine Fair.

The aims of the 'Thailand's Best Sommelier' competition are:

1. To promote the sommelier profession throughout Thailand.

2. To promote and increase the knowledge of wine and other beverages among sommeliers and other wine service professionals.

3. To raise the standard of wine and beverage service, and to harmonise national rules and regulations in accordance with world-class standards.

4. To promote wines and beverages from around the world in the Thai market.

Since its inception, the 'Thailand's Best Sommelier' competition has attracted over 100 wine service professionals from top hotels and fine-dining restaurants around the country to enter and take part in the 3-level exam.

The exams include written and practical tests, interviews and essays. The top 20 scorers from this process are the competition finalists. This year, on 1-2 July, the finalists will again be invited to take their final tests at the Dusit Thani Bangkok's principal restaurant, D'Sens.

As usual, Wine Today will host the 'Sommelier 2010' evening reception and grand wine-tasting at the Napalai Ballroom of the Dusit Thani Bangkok on 2 July 2010. In each of the past 2 years, approximately 1,000 Food & Beverage professionals and high-end wine enthusiasts have attended the evening Sommelier event, which is now regarded as a highlight of the Bangkok wine calendar.

The competition winner and two runners-up will be announced at the reception. The winner's prize includes an overseas wine education trip for up to two weeks, while the two runners-up will each receive a one-week overseas wine education trip.


This year the winner will also be eligible to compete at the 'ASEAN Best Sommelier Competition' to be staged at the Bangkok International Wine Fair from 25-27 November. Six ASEAN nations - Thailand, Singapore, Malaysia, Indonesia, The Philippines and Vietnam – will be participating in this event.

Wine Today is keen to work with any wine producers, wine-producing countries or regional wine bodies to hold wine seminars and other educational events that will enhance the learning experience of 'Sommelier' contestants. Wine Today does not charge anyone for wine education or training, or to enter the competition itself. Nor does Wine Today charge for the 'Sommelier' magazines associated with the competition.
…………………………………………………………………………………………………………………

Wine-producing countries, regional bodies or wine brands interested in hosting conferences, seminars or presentations in conjunction with the 'Thailand's Best Sommelier' competition should contact Wine Today magazine. Email editor@thailandwinetoday.com

Programmes and Seminars

Show News

BIWF Wine Challenge