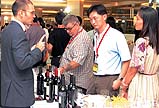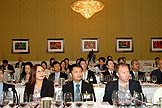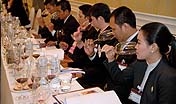 2010 Thailand's Best Sommelier Competition
---
The third 'Thailand's Best Sommelier' competition was held on 1 & 2 July 2010 at the Napalai Ballroom, the Dusit Thani Bangkok.
Unlike other sommelier contests, the Thailand's Best Sommelier competition is a four-level exam. This year, 104 contestants from top hotels and restaurants around the country entered the first round of the competition. They were sent back copies of 'Wine Today' magazine, a 100-item questionnaire to test their general wine knowledge and were also required to write an essay about wine within a given time frame.
The second round consisted of an additional 100-item questionnaire and an essay.
In the third round, all contestants had to go through a telephone interview by an international judge which tested both their international wine knowledge and their command of English.
After the three rounds, the top 20 scorers were selected to enter the final round for a two-day exam held at the Dusit Thani Bangkok.
The first day of the exam consisted of an interview by three international judges, together with a blind tasting and commentary on four beverages. Contestants were required to express this in English in front of an audience.
The second day of the exam consisted of Champagne service to two guests in 3 minutes, followed by red wine service to six guests in 6 minutes. These practical exams were set up in a restaurant environment, and again contestants had to perform in English in front of an audience.
The winner and the two runners-up of the Thailand's Best Sommelier Competition 2010 were announced at 'Sommelier 2010', the Grand Wine Tasting and cocktail reception which was held on the evening of 2 July 2010.
Mr Surachet Poungkrasae from the Hilton Hua Hin Resort & Spa was announced as the winner. The two (equal) runners-up were Mr Santi Pichayamarin from the Grand Hyatt Erawan Bangkok, and Miss Jaruwan Kaset from Aldo's Restaurant & Wine Bar.
Mr Joe Sriwarin, President of the Thailand Sommelier Association, said it was a difficult time for the wine trade as Thailand has just emerged from severe political disturbances.
Even so, it was heartening that the sommelier has now become a fully recognised wine professional in Thailand's hotel and restaurant industry. Moreover, many wine producers and importers have begun to understand that they can no longer sell wines like any other liquor brands in Thailand – the Thai wine consumer is growing too sophisticated for that. It was also good news that more hotels and fine-dining restaurants are employing wine-service specialists than ever before. Most of the city's top hotels, as well as major resorts around the country, are now giving regular wine training to staff and appointing professional sommeliers to their main outlets.
The Thailand's Best Sommelier Competition 2010 was sponsored by SOPEXA Thailand.
Other sponsors included Thai Airways, Pommery Champagne, Schott Zwiesel and Lexus Cars.
The evening reception and Grand Wine Tasting was supported by the Argentine and South African embassies as well as 20 wine importing companies.
Photo Show
Sommelier 2010 Opening and Prize Presentation
Sommelier 2010 Grand Wine Tasting and Reception
Programmes and Seminars

Show News

BIWF Wine Challenge