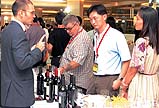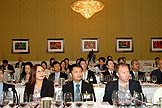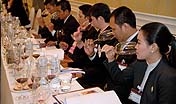 Boutique Producers
---
Why exhibit at the Bangkok International Wine Fair?
- Are you little known in the region, and too small to gain attention?


- Do you face difficulties when looking for new agents overseas?


- Are you denied opportunities to meet the real decision makers?


- Do you find you are kept waiting, or that your calls aren't returned, or that switchboard operators are uncooperative?


- Have you previously attended other wine fairs in the region and found that the cost was too high?


- Have you had to contend with big hotel bills, expensive meals and taxis, unfriendly business contacts, inconvenient venues and long walks to get where you need to be?
We are familiar at first hand with all these complaints and grievances. That is why we are determined that BIWF will be not only a cheaper venue for small producers, but also friendlier and more sympathetic to their needs.
Exhibiting at BIWF will put you in front of hundreds of wine-trade buyers from Thailand and neighbouring Southeast Asian countries - Malaysia, Myanmar, Laos, Cambodia, Vietnam and Southwest China.
Import agents and supermarkets, duty-free and independent wine merchants, F&B professionals - BIWF is the definitive show that will attract buyers from all parts of the regional wine trade. Seeking out agents, launching new products, meeting customers, targeting the press or winning new direct business - we are determined that BIWF will be the key event for getting results in the mainland markets of Southeast Asia.
It may surprise you to learn that stand costs at BIWF are much cheaper than at other wine fairs in the region. Moreover, Bangkok offers a wider range of quality hotels and restaurants, and at prices unrivalled anywhere else in Asia.
Bangkok's transport system now makes life very convenient. Getting off the plane, you can jump straight onto the Airport Express (15 minutes by high-speed train to the city centre), then connect to the MRT (underground) or BTS (skytrain) lines to travel on to your chosen hotel.
To get to the BIWF from your hotel, simply connect with the BTS line (there are two major BTS-MRT interchange stations in central Bangkok), and this will take you to the doorstep of the Royal Paragon Hall Exhibition & Convention Center in a matter of minutes. And should you prefer to get around by taxi, you will be astonished at how affordable this is. Bangkok is one of those rare cities where taxis are not considered a luxury.
Never been to Thailand before? Would you like to know more about BIWF, Bangkok or Thailand in general?
Why not email our communications office for further information, or to discuss your specific requirements. We will make every effort to get back to you within 48 hours.
communications@bangkokwinefair.com
↑ (top)
Programmes and Seminars

Show News

BIWF Wine Challenge