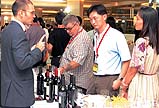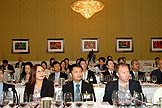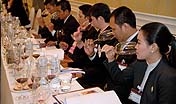 Thailand in Brief
---
Thailand is the world's 50th largest country in terms of total area - slightly smaller than France and slightly larger than Spain - with a surface area of approximately 513,000 sq km (198,000 sq miles). It is also the 21st most populous country, with approximately 65 million people, projected to rise to 69 million by 2015. The capital, Bangkok, is by far the largest city in Thailand and mainland Southeast Asia, with a fluctuating population currently estimated at 9-10 million. The metropolis is also the centre of the country's political, commercial, industrial and cultural life.
In ethnic terms, about 75 per cent of the population is Thai, 14 per cent is of Chinese origin, and 4 per cent is Malay. The remainder belongs to recognised minority groups such as Mons, Khmers and various hill tribes.
Thailand is the only country in Southeast Asia that was never colonised by a European power, however it has been open to strong international influence for well over 150 years. The country's official language is Thai, but English is a compulsory subject in schools and widely spoken.
Thailand is overwhelmingly Buddhist in religion and culture, though all other religions are tolerated. The national religion is Theravada Buddhism, which is practiced by nearly 95 per cent of all Thais. Muslims (predominantly but not exclusively Malay) make up 4.6 per cent of the population.
In recent years, Thailand has also become home to a large number of expatriates from Western and other developed countries. Most live in Bangkok, with other major concentrations in famous resort areas such as Phuket, Pattaya and Samui.
Thailand is bordered on the north by Laos and Burma, on the east by Laos and Cambodia, on the south by Malaysia and the Gulf of Thailand, and on the west by Burma and the Andaman Sea. Maritime neighbours include Vietnam across the Gulf of Thailand to the southeast, and Indonesia and India across the Andaman Sea to the southwest.
Thailand is a constitutional monarchy. King Bhumibol Adulyadej, the ninth king of the Chakri Dynasty, is the reigning monarch. The revered 82 year-old King has now reigned for 63 years, making him the longest reigning monarch in the world, as well as in Thai history. The King has no formal political power, but is highly influential and recognized as Head of State, Head of the Armed Forces, the Upholder of the Buddhist religion and Defender of the Faith.
Thailand experienced very rapid economic growth in the 1980s and 90s, but suffered a temporary setback following the Asian financial crisis of 1997. Today it is established as a newly-industrialized country, with an emphasis on exports and the largest tourism industry in Asia.
Suvarnabhumi Airport is located 28km east of downtown Bangkok. With a new high-speed rail link, it now takes only 15 minutes to get from the airport to the city centre. Suvarnabhumi has the world's tallest control tower (132.2 metres) and the world's third largest single-building airport terminal (563,000 square metres). A second terminal is likely to be constructed soon.
Suvarnabhumi is one of the busiest airports in Asia, and also a major air cargo hub connected by modern motorways both to the capital, and to the major centres of the industrial Eastern Seaboard all the way to Pattaya 140 kilometres away - one of the region's most important beach resorts.
DOS & DONT'S:
Although Thailand is famously receptive to (and tolerant of) foreigners, newcomers should recognize that the culture differs in several major respects from the West and will want to avoid giving unwitting offence.
Dos
Smile a lot (Thais do) and avoid open displays of anger or impatience, which only succeed in losing respect and consideration. Although it may take a little longer to resolve problems in Thailand than in some other countries, solutions are eventually found - so be as patient as you can.
Dress your status. Thais are influenced by outward appearances to a much greater extent than Westerners.
Be aware that Thais, like other East Asians, are very concerned to avoid 'loss of face'. Complaints should be muted and direct criticism avoided.
Have fun. Thais like to enjoy themselves and to feel that their guests are enjoying themselves too.
Don'ts
Don't criticise the monarchy. Thai people have a deep, traditional reverence for their Royal Family, and foreign visitors are expected to show polite respect for the King, the Queen and the Royal Children. Open disrespect for Thai royalty is completely unacceptable, and may even lead to prosecution under the country's active lèse majesté laws.
Don't openly criticise or disrespect the Buddhist religion. Visitors should always dress appropriately at all religious shrines. Note that every Buddha image, large or small, ruined or not, is regarded as a sacred object. Never climb onto one or do anything else which might be construed lack of respect.
Don't ignore heads and feet. In the Buddhist conception, the status of the human body diminishes all the way from the head (sacred) down to the feet (base). Except in the case of small children, avoid touching Thai heads and be aware that pointing with the foot is considered extremely rude, even insulting.
Don't handle narcotics. Penalties for all drug offences are very severe in Thailand. In aggravated cases, offenders may face the death sentence.

Programmes and Seminars

Show News

BIWF Wine Challenge